Do you always bet on the wrong horse or do you lose the ball at Roulette? Your luck may have left you. But never mind ! The tourist office team has prepared a list of lucky charms for you to unearth throughout the territory!
1. The ladybug
The legend that the ladybugs would bring good luck dates back to the Middle Ages. A man wrongly accused of a horrible crime he had not committed was pardoned when a ladybug came to rest on him just before the terrible sentence of the executioner.
Since that day, the beliefs around God's little beast have become inexhaustible; so much so that today, this little beetle with black-spotted carmine elytra is still present in the collective unconscious, like the little insect that brings happiness wherever it goes.
If you want to put luck on your side, go in search of a ladybug. Celebrate it with fervor during one of your walks in Cabourg by visiting the corners not to be missed such as Nylic Square, the Casino Gardens or during an immersion in one of our orchards on the Cider Route !
2. The four-leaf clover
Luck, hope, good fortune, peace, serenity, fame, conjuration: the 4-leaf clover is certainly one of the most emblematic, best known and most used lucky charms around the world! The origin of its legend dates back to Antiquity for some (and even well before that for others) but everyone agrees on one point: its rarity makes the one who finds it lucky!
A four-leaf clover is a 1 in 10 chance of finding one!
If that doesn't discourage you, here are a few clues to help you in your search:
The most common clover is white clover (trifolium repens for the close friends). It is creeping, and gives white or pinkish-white flowers. Luckily, clover is not shy and grows just as well in the plains as in altitude, with a preference for rich, well-drained soils.
And if you take advantage of a stroll through our territory to find one?
This is an opportunity to combine business with pleasure to discover magnificent panoramas. start with a walk in the marshes of the Dives between Cabourg et Varaville then take a little altitude by discovering the point of view from the orientation table of Houlgate. You can thus continue your walk by taking the path of the semaphore and continue by following the circuit of the Vaches Noires cliffs by inland.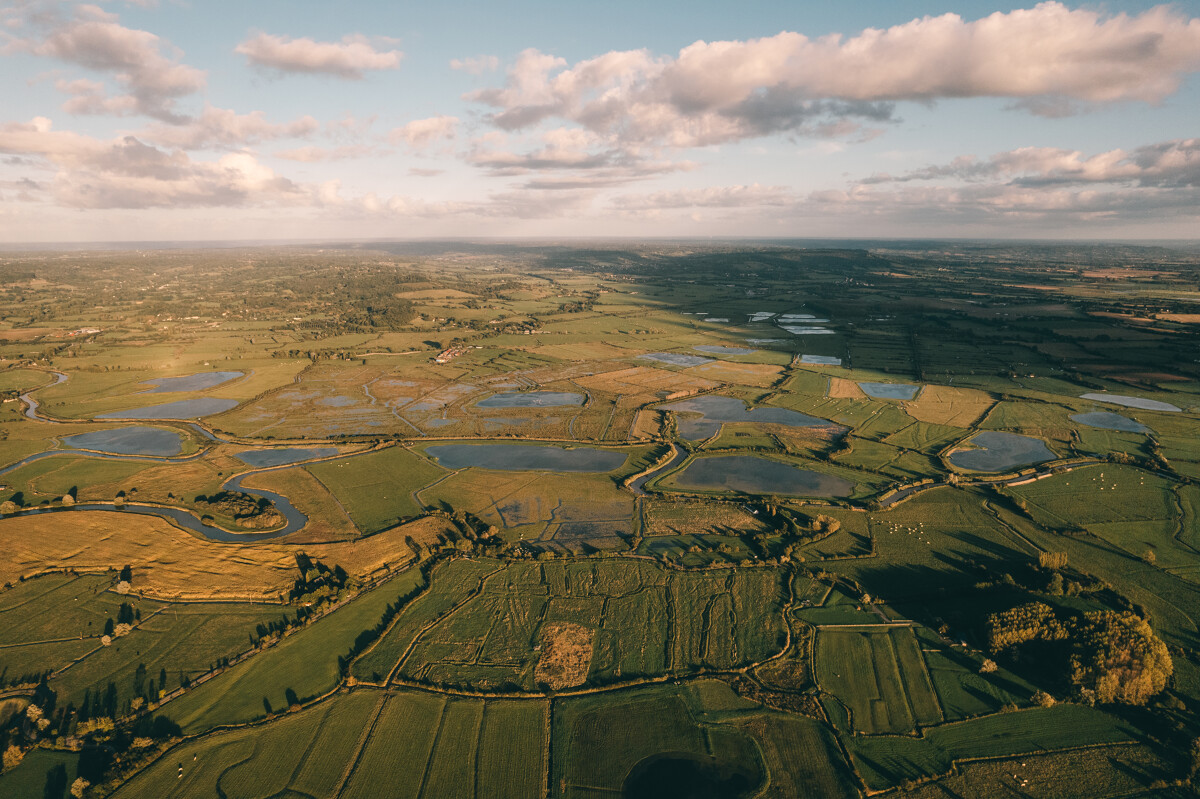 3. The horseshoe
According to legend, hanging a Horseshoe above his front door would bring good luck and protection against evil spirits. A simple technique that will only require 3 things: a hammer, a nail and a farrier. If you're missing one, here's a solution to capture a hint of luck without having to punch holes in the wall: opt for a horseback ride in the Pays d'Auge !
Horseback riding is a wonderful opportunity to commune with animals and nature and to taste, for a moment, the Norman art of living!
If you are not from Normandy, here is what you need to know about our beautiful region and our territory: Normandy is the land of horses par excellence and the Pays d'Auge is its cradle.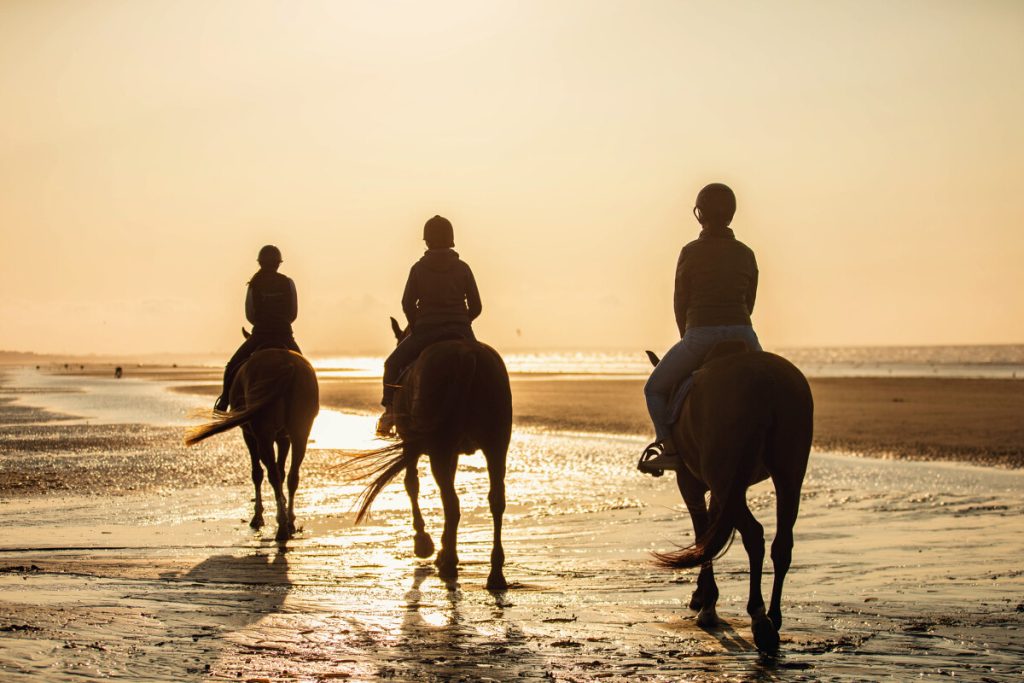 With our stud farms, our horse circuits and our equestrian centers: our territory is home to many horses, events but also many activities around the horse. Thus, during an equestrian outing, you can enjoy the positive vibes of 4 horseshoes (instead of one) while discovering the territory.
4. Rabbit's Foot
Do you know the common point between a gold digger and a hunter? At the time, both were using rabbit's feet to maximize their luck! The gold digger used them to facilitate the recovery of tiny gold flakes (they clung to the hairs). The hunter carried them on him to increase the number of his catches. But don't worry, here we prefer to observe these leporids frolicking quietly while giving them nice caresses!
Did you know ?
The belief around the rabbit's foot has its roots in antiquity. It is its ability to reproduce that would have given it the symbol of fertility, enthusiasm and ipso facto, luck !
How to capture the luck that resides in a rabbit's foot?
We promise, you won't need to hide in a bush to ambush a wild rabbit and steal a hug! The trick that we offer you is much simpler. Head to the Roncheville orchard and the Lieu Roussel farm: educational farms where rabbits, cows, pigs and other farm and barnyard animals live peacefully.
There, visits can be made independently or not. With a little patience and perseverance, you can pet animals and why not leave with some good local products.
5. Thrush
Fine, discreet and fresh, the fragrance of Lily of the Valley is evocative of spring. It has been a lucky charm since the Middle Ages since it symbolizes the return of the beautiful season and sunny days.
On your next 1er May, remember to count the number of bells because the strand of lily of the valley with 13 bells, extremely rare, is the symbol of absolute happiness!
6. The number 13
No need to elaborate because everyone knows that the number 13 is at the center of many superstitions. To put it simply: it brings good luck for some and for others not.
Did you know?
The phobia that qualifies the fear of the number 13 the triskaidekaphobia and people who are afraid of friday the thirteenth suffer from paraskevidekatriaphobia.
If you need more than 13 in your life, here is a little boost that should make you happy: on the seaside resorts of Cabourg et Houlgate exist 4 Belle Epoque villas at number 13.
In Cabourg, you will find Villa Pibola at 13 place Marcel Proust and in Houlgate, there is:
Villa les Sirènes – 13 rue Henri Dobert (twin of the villa Les Courlis located at 15)
Villa les Valonias – 13 avenue du Sporting
Chalet Sainte-Marie – 13 rue Baumier
This represents four possibilities to catch a little luck in these four numbers 13. If the discovery of theBelle Epoque architecture you liked, continue the adventure by taking the circuit of villas, available for download and in our tourist offices.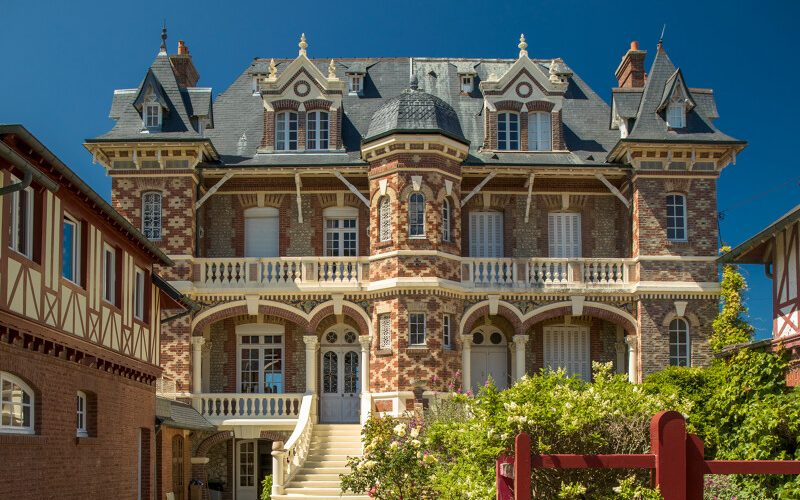 7. Stones
Precious and semi-precious, the use of stones as lucky charms dates back to the dawn of time. From Eastern culture to Western culture, many civilizations around the world have used stones to repel negative waves.
Jade, Eye of tiger, lapis lazuli, pink quartz ou moon stone ; the benefits of stones are many. All you have to do is find the one that will bring you happiness! And don't forget, it's always the stone that chooses its carrier. So open your chakras and let your soul vibrate.
A little useful info: if your wrists or your neck are bare, there are shops in Merville-Franceville-Plage and Dives-sur-Mer that can satisfy you!
And you in all this?
A keychain, an old coin, an old comforter? We each have, in our own way, a little lucky charm or lucky charm to reassure us and give us strength! Tell us on the networks which one is yours with the hashtag #balancetongrigri !