Imagine a magnificent sandy beach that stretches as far as the eye can see, sumptuous villas – symbols of another time – hotels, a casino, a thalasso, a promenade and gardens. Imagine a seaside resort that, like a flower, has blossomed over the centuries. Are you there? Well here is Cabourg, the Queen of the Côte Fleurie. And believe us, you are not done being surprised!
A renowned seaside resort, it is peaceful, dynamic, mythical, modern, family-friendly and intimate. At the crossroads between historical, natural and cultural heritage, Cabourg attracts thousands of visitors every year. What if this year it was you?
A historic city center
Ideally located in the heart of Normandy, Cabourg was founded more than 1400 years ago in medieval times. Known for its sea bathing since 1855, the city has developed strongly over the centuries as evidenced by the many Belle Époque villas which are, today, an integral part of the panorama of the seaside resort.
Charles, Marcel, Bruno, Sandrine, René, Raymond, Ferdinand, Jacques, Sophie, Marc, Audrey, Christophe, Fleur, Sara, Jean, Isabelle, Emmanuel, Jérôme or Pierre: many are these stars and illustrious people who have walked the streets of Cabourg.
These neo-Norman constructions all have this little something that catches the eye and transports those who contemplate them to the Belle Époque of Marcel Proust in the blink of an eye. There is also a circuit secretly guarded... or almost, which takes visitors to meet the villas of Cabourg, whose Villa du Temps retrouvé . Guided tours are also offered by the tourist office to learn more about the past of the Queen of the Côte Fleurie.
A wonderful beach
Fine sand that slips through your fingers, children's laughter, sunsets and waves that embrace seashells: there's no denying it, Cabourg beach ticks a lot of boxes. Often nicknamed the beach of the romantics, it gives, whatever the season, the opportunity to contemplate magnificent panoramas and enjoy the iodized air under a pink-orange sky.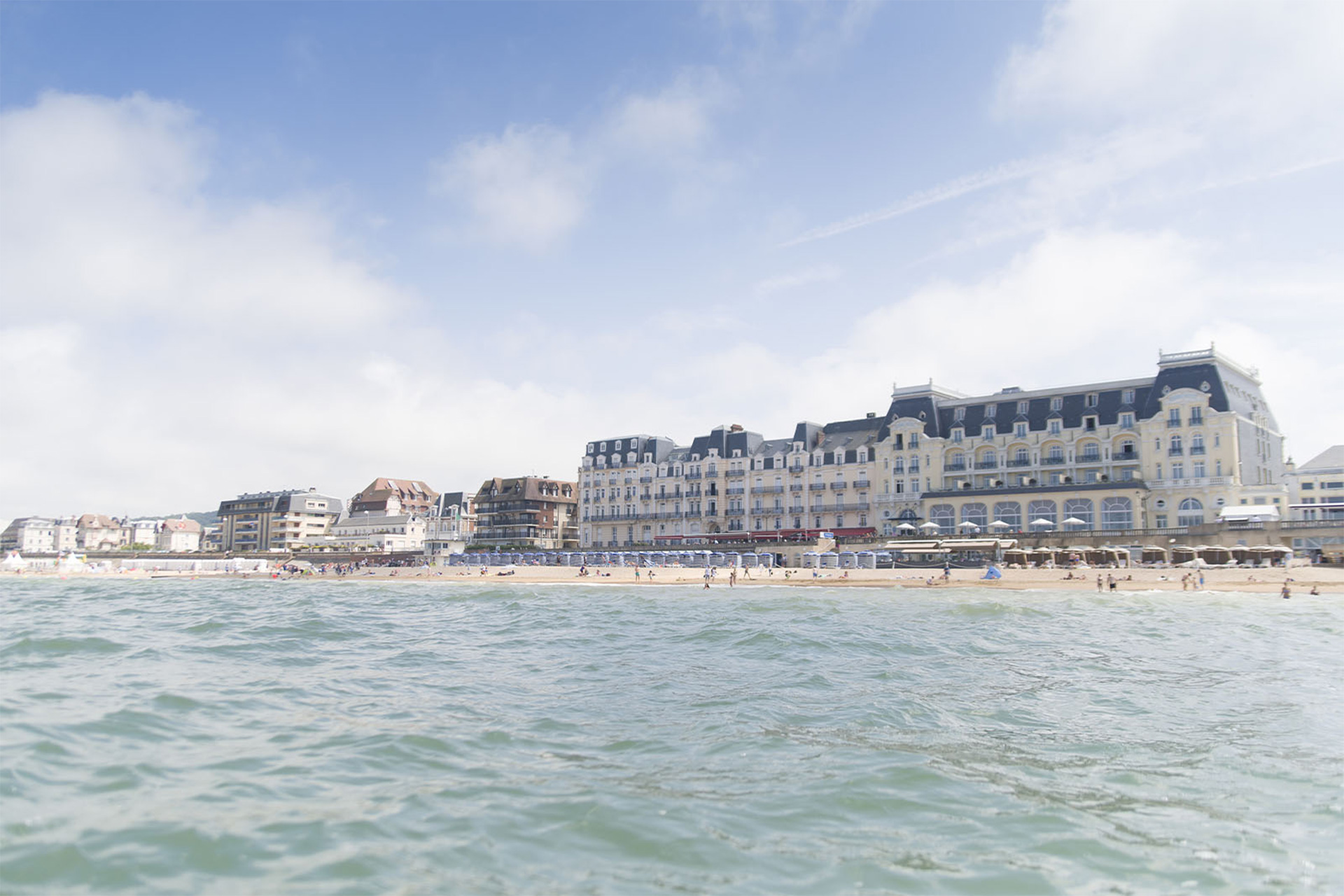 ©
The advantages of Cabourg beach
A wide 4 km long beach, which leaves you room to put your towel far enough away from your neighbour; a location on the west coast, about 2 hours from Paris by car, 20 minutes from Caen and 25 minutes from Deauville; an ideal spot for a family holiday or a weekend in Cabourg.
Hotel, casino and thalasso…
Why choose when all three are in the same place?
Cabourg is the ideal destination in Normandy to enjoy a weekend of perfect relaxation. Rest at the Grand Hôtel de Cabourg, relax at the Thalazur thalassotherapy center in Cabourg and challenge the slot machines at the Casino. The real plus: you can do everything in one day, without having to use the car once. A great opportunity to enjoy the peace and quiet of Normandy, far from the hustle and bustle of big cities.
A bustling seaside resort
Every year, Cabourg hosts festivals like Cabourg mon Amour , a pop-rock-electro festival or the Cabourg Film Festival, which honors romanticism and the 7rd art. Other events, such as Horse races and show jumping competitions punctuate the summer season.
Children, meanwhile, find their happiness by participating in the plethora of events and activities organized by the tourist office and the city throughout the year. Family Plus Week, Discovery Week, The Sea Stars, Club Cabourg, a non-exhaustive list which positions Cabourg as a labeled family resort full of attractiveness.
A seaside resort with the Family Plus label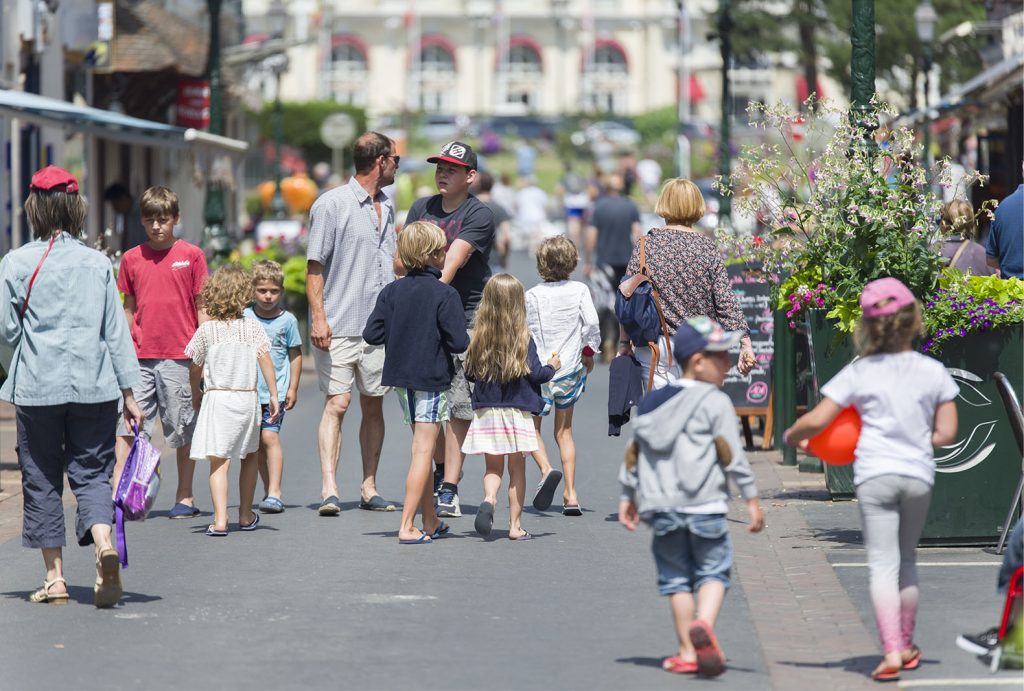 Family destination par excellence, Cabourg was the first town in Calvados to be labeled Famille Plus. Since 2007, the city has continued to offer families a range of activities and entertainment. Each year, the tourist office as well as all the sports and leisure partners, restaurants and accommodation are mobilized to welcome you like chickens in dough!

The recipe for a Famille Plus resort is quite simple. Choose a setting that is both elegant and preserved. Add a good handful of fine sand and sprinkle some flower gardens. Lay down magnificent Belle Époque villas and delicately affix, here and there, finials. You get Cabourg, a queen-like resort, ideal for relaxing and getting away with the family!
Activities for all
Alone, with family, with friends, close to nature or in places steeped in history, there is no shortage of activities in Cabourg. And that also applies to thrill seekers.
What to do in Cabourg?
During a short or long stay, there are still certain things not to be missed. Find below a list, not exhaustive, but approved by the office team and… our dear subscribers of course!
take a walk that will guide you from Promenade Marcel Proust, to Nylic square via the Casino Gardens.
eat a madeleine
take a photo with Marcel at the Villa of Time Regained
walk on the Meridian of Love
Are you looking for accommodation for your next stay?