Imagine a magnificent white sandy beach stretching as far as the eye can see, sumptuous villas - symbols of a by-gone era - hotels, a casino, a thalasso spa, a promenade and gardens. Imagine a seaside resort which has blossomed like a flower over the centuries. Can you picture it? Welcome to Cabourg, the Queen of the Côte Fleurie (Flower Coast). And believe us, there are plenty more surprises in store!
A renowned seaside resort, it's all at once peaceful, vibrant, mythical, modern, family-oriented and intimate. At the crossroads between historical, natural and cultural heritage, Cabourg attracts thousands of visitors each year. This year, why not be one of them?
A historic town centre
Ideally situated at the heart of Normandy, Cabourg was founded more than 1400 years ago in medieval times. A popular destination for sea bathing from 1855, the town developed rapidly over the centuries, as illustrated by the many Belle Epoque villas which add to the seaside resort's charm.
Charles, Marcel, Bruno, Sandrine, René, Raymond, Ferdinand, Jacques, Sophie, Marc, Audrey, Christophe, Fleur, Sara, Jean, Isabelle, Emmanuel, Jérôme and Pierre: many are the stars and illustrious figures who have walked the streets of Cabourg.
These neo-Norman buildings all have this certain something that draws the eye and in a flash transports visitors to the Belle Epoque of Marcel Proust. There is actually a (not so) secret tour which takes visitors on a discovery of Cabourg's villas, including the Villa du Temps retrouvé. Guided tours are also organised by the tourist office to learn more about the history of the Queen of the Flower Coast.
A magnificent beach
With its expanse of fine white sand, children's laughter, stunning sunsets and waves washing over the seashells, there's little doubt that Cabourg beach ticks all the boxes. Often referred to as the "beach of romantics", whatever the season, visitors can soak up magnificent panoramic views and enjoy the sea air under a pink-orange sky.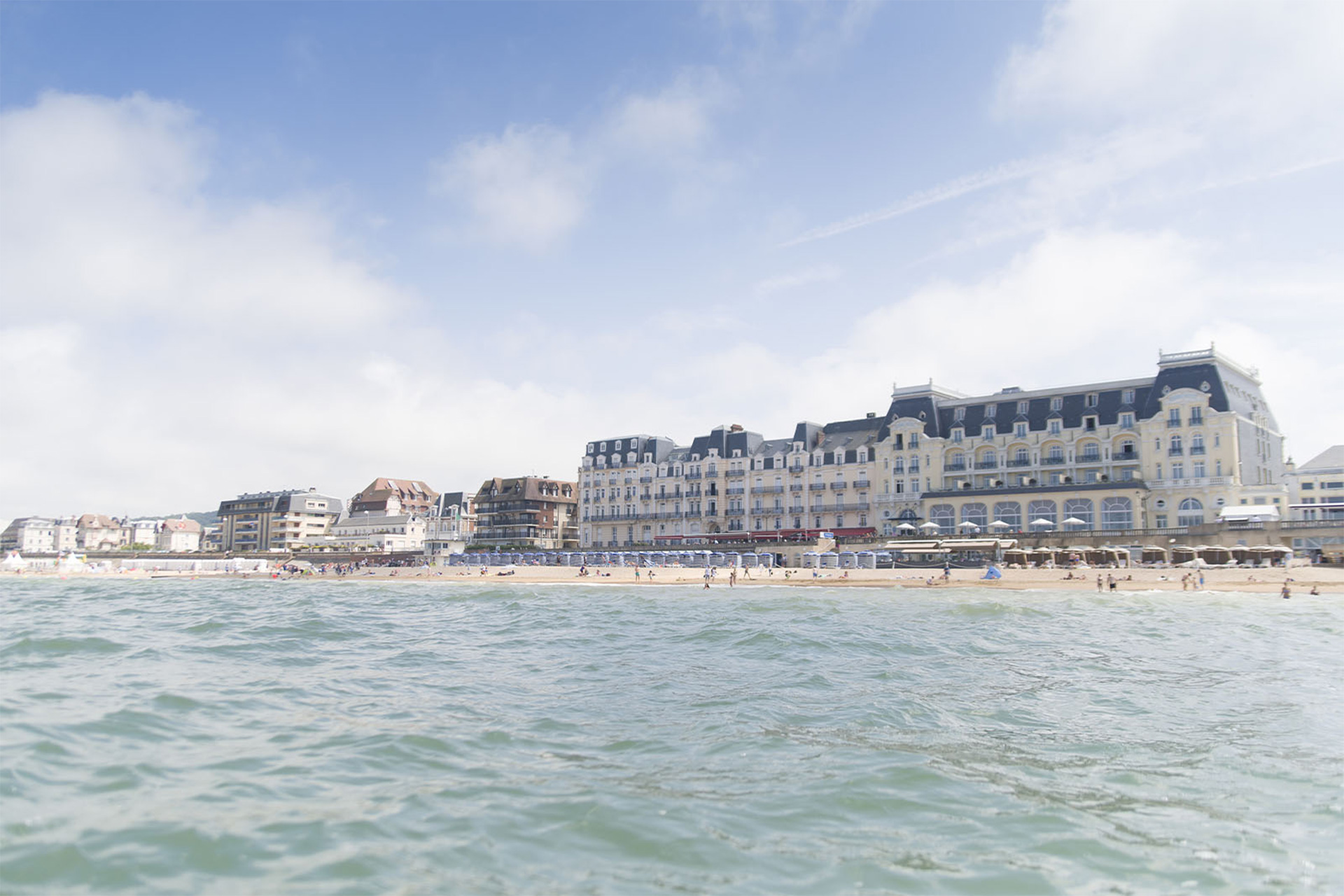 ©
The advantages of Cabourg beach
A wide 4 km-long beach, meaning there's plenty of space for everyone; located on the west coast, around 2 hours from Paris by car, 20 minutes from Caen and 25 minutes from Deauville; the perfect spot for a family holiday or a weekend in Cabourg.
Hotel, casino and thalasso spa...
Why choose when all three are in the same place?
Cabourg is the ideal destination in Normandy for a weekend of pure relaxation. Relax at the Grand Hôtel de Cabourg, unwind at the Thalazur de Cabourg spa and pit yourself against the slot machines at the Casino. The real bonus: you can do all three in a day without once having to use your car. The perfect chance to enjoy the gentle pace of Normandy life, far from the hubbub of large towns.
A vibrant seaside resort
Every year, Cabourg hosts festivals such as the electro pop rock Cabourg mon Amour festival, and the Cabourg Film Festival, dedicated to the romantic cinema genre. Other events, such as Horse races and show jumping, are held throughout the summer.
Children will find plenty to keep them happy with many events and activities organised by the tourist office and the town throughout the year. Semaine Famille Plus, Discovery Week, The Sea Stars, Club Cabourg, just some of the activities which make Cabourg an officially certified family resort.
A Famille Plus certified seaside resort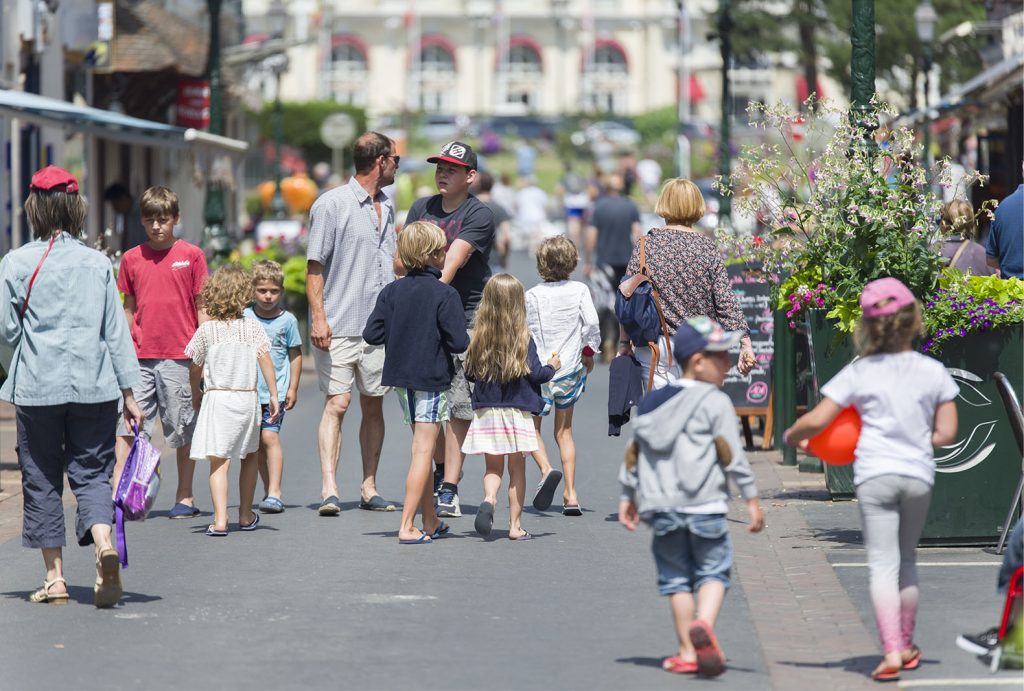 A quintessential family destination, Cabourg was the first town in Calvados to be awarded Famille Plus status. Since 2007, the town has consistently offered families a range of activities and events. Each year, the tourist office as well as all the sports and leisure partners, restaurants and accommodation providers come together to serve you up a real treat!
The recipe for a Famille Plus seaside resort is quite simple. Choose an elegant and well-preserved setting. Add a good handful of fine sand and sprinkle over some gardens in bloom. Garnish with some magnificent Belle Epoque villas, and for a finishing touch, add some finials. The result is Cabourg, a resort with all the look of a queen, ideal for a relaxing family getaway!
Activities for everyone
Alone, with the family, friends, close to nature or in places steeped in history, there are a host of activities to enjoy in Cabourg. Thrill seekers also have their fair share of things to do.
Things to do in Cabourg
Whether your stay here is long or short, there are certain things you really mustn't miss. Below is a non-exhaustive list, approved by our team...and of course our wonderful followers!
take a walk along Marcel Proust Promenade, through the Casino Gardens and on to Nylic Square
eat a madeleine
have a photo taken with Marcel at the Villa du Temps retrouvé
walk along the Meridian of Love
Are you looking for accommodation for your next stay?