The holidays are approaching, and the shopping list is getting longer. This year, why not opt ​​for a dinner with a hint of Normandy, made up of a few specialties from the region? Focus on these 5 delicious products — which will delight young and old.
Preparing a dinner party can be a real headache. To give you a little boost, we have listed the products not to be missed: oysters, white apple wine, teurgoule, cheeses and chocolate. What do these dishes have in common? They originate from Normandy and the Pays d'Auge, and can be found at a handful of local merchants. It's your lucky day: we tell you which ones.
Normandy product #1: oysters
Normandy oysters are nothing trivial: gourmet, they are as delicious cold, with a splash of lemon juice, as cooked in the oven. It's up to you to choose your favorite option – or to bet on both, for an iodized dinner.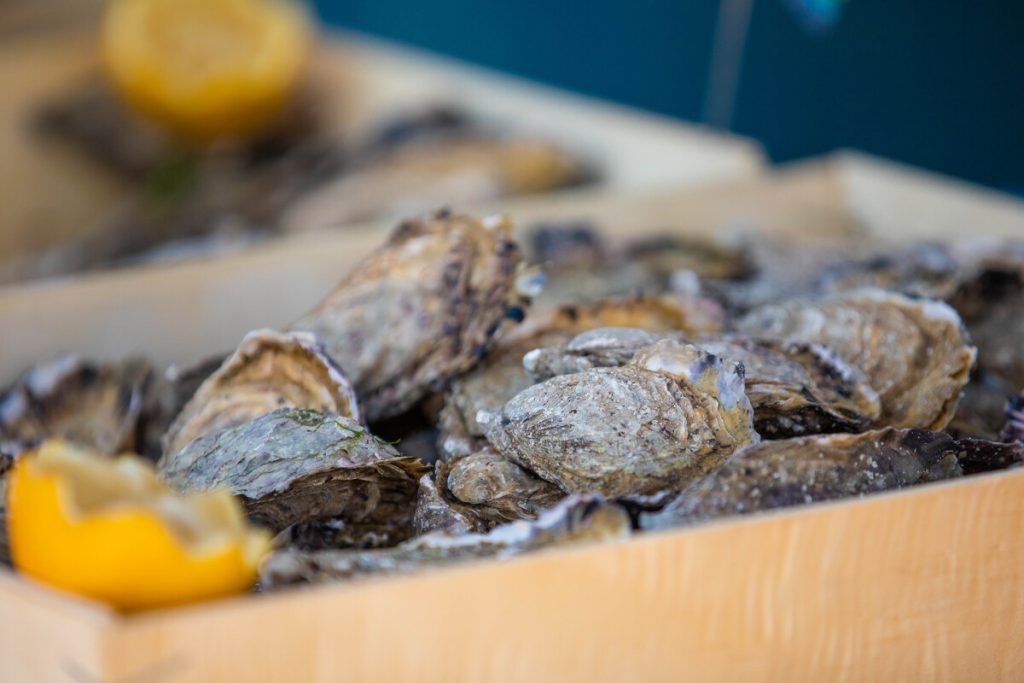 Where to buy oysters for New Year's Eve?
Option 1 : At the house of Mimi the Tourteau. To do this, head to the covered market halls of Houlgate. It is here that Didier, who has been running the place for many years, offers shellfish, shellfish and fish, live from the fishermen of the Port of Dives-sur-Mer (or the Channel region). At home, the Oysters are greedy — perhaps as much as you.
Option 2 : Le Homard Bleu (fishmonger) . Find there, depending on the arrival and the season, many fish, shellfish and crustaceans (sea bass, sea bream, sole, mackerel, cod, salmon, oysters, whelks, mussels, winkles, clams, etc.) that will delight your taste buds.
How to eat oysters?
Hot or cold, with a squeeze of lemon or au gratin in the oven: it's a matter of taste!
Mediafixer Normandy oysters, they are cooked with fresh cream and apples – we salivate in advance. If you opt for the cold version, do not hesitate to equip yourself with an oyster knife, to facilitate the opening process - to start a few minutes before tasting, to ensure the freshness of the product.
Normandy product #2: white apple wine
Yes, it is an innovative product. And yes, it is a bit different from the classic white wine, which is usually found among French winemakers. Especially because here the grapes have been replaced by sour apples. On the other hand, the fruits are treated in the same way, according to these few manufacturing steps: fermentation with selected yeasts, absence of residual sugars, filtration and slight sulphiting. And bam: apple white wine is clear, without deposit.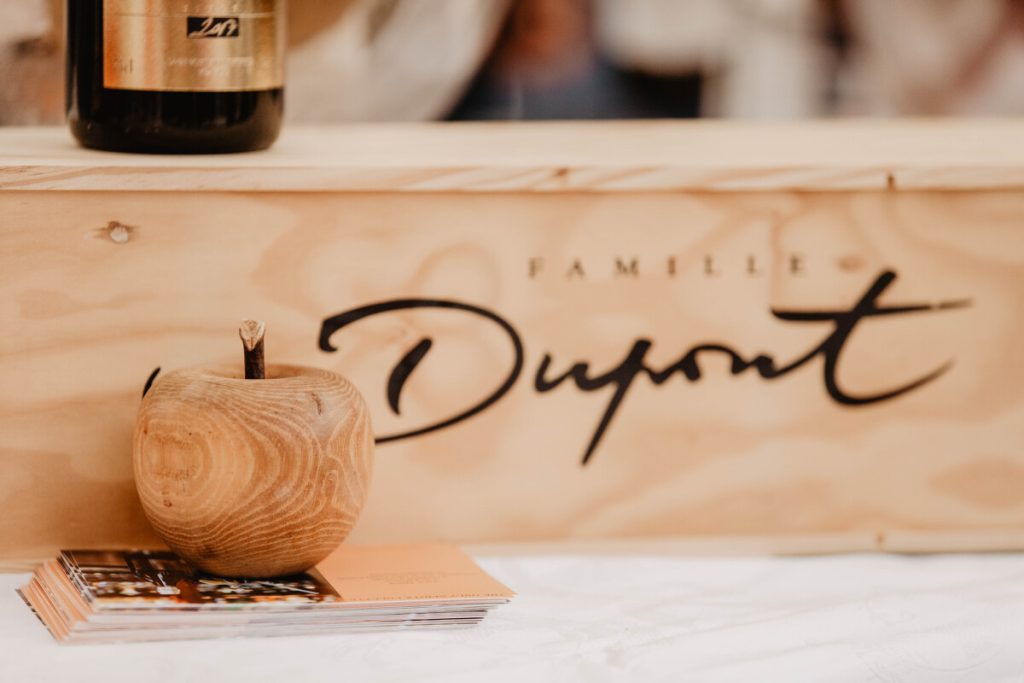 Where to buy apple white wine for New Year's Eve?
At Calvados Dupont, specialists in the field. On the estate, they call it "apple white". The particularity ? The robe, both shiny and golden, of the nectar. In the mouth, it gives round and suave notes (at the first sip), then fresher, and, finally, very mineral.
With what to taste apple white wine?
Shellfish as a starter, cooked fish or white meat as a main course, cheeses from the region or with fruit desserts: everything is possible! The hardest part will be choosing… Unless you opt for a 100% white apple wine party meal?
Alcohol abuse is dangerous for your health, consume with moderation.
Normandy product #3: teurgoule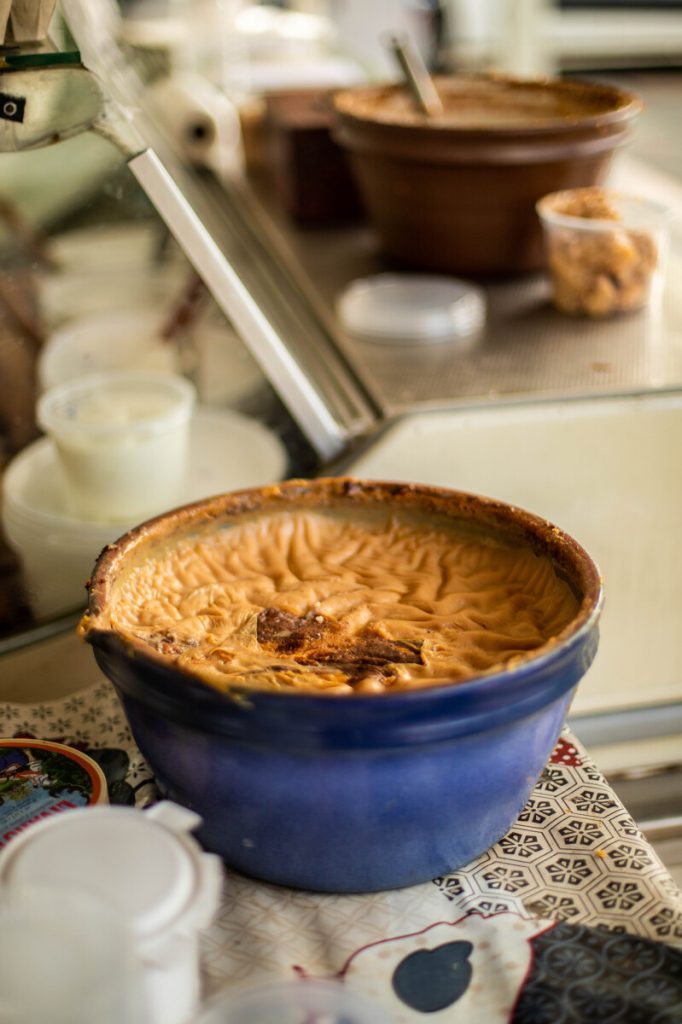 This specialty (which literally means "twist") is a dessert made of sweet rice pudding, often flavored with cinnamon, and baked in the oven for a (very) long time – around five hours. If you tell yourself that these ingredients are not typically Norman, you are not entirely wrong. In reality, they were part of the booty collected by the corsairs in the XVIIe century. The tradition has been preserved. This explains that.
Where to buy a teurgoule for New Year's Eve?
At the Aulnay Wood Farm. This is where Jacqueline and François Lebrun, who specialize in cider and apple juice, also make this local and traditional sweet treat. You can find them under the covered market halls of Houlgate.
When to eat teurgoule?
For dessert, snack and even breakfast: there is no time for indulgence.
Norman product #4: cheeses
Rest assured, we won't make you go through the dessert box without a little cheese. To find out where to buy them and how to taste them, read on, without losing a crumb!
Where to buy them?
À La Boîte à Meuh (cheesemonger) to discover a hundred cheeses made from raw cow's, goat's and sheep's milk which are rigorously selected for their qualities, their authenticity and their taste!
When to eat them?
After the main course and before dessert, served with a green salad.
Norman product #5: chocolates
A festive meal without chocolates is as sad as a madeleine without softness. So as not to disappoint your hosts (or be an exemplary host if you are invited to celebrate Christmas and the New Year with friends), choose your chocolates carefully.
Where to buy chocolates for New Year's Eve?
1 option: La Chocolate trunk, a shop that recently opened in the Merville-Franceville-Plage resort. It is here that Stéphane Marie, pastry chef and chocolate maker since adolescence, offers a selection of chocolates, biscuits et macarons. The hardest ? Choose from dozens of varieties.
2 option: La Chocolaterie Artois , in Beuvron-en-Auge, which has made tablets its specialty. At Jacky and Brigitte Artois, they are orange, feuilletine, ginger or even cranberries. You can also fall for their little Livartois, a ganache flavored with calvados.
When to eat them?
No need to wait for very special occasions to open a box of chocolates. Let yourself be carried away by your delicacies, for dessert, for a snack or throughout the day. After all, that's what small pleasures are for, right?
New Year's Eve Shopping List: Locations