Planning summer holidays has never been easier with the tourist office. Let yourself be guided by our proposals for nature activities, to do between land and sea! Are you still hesitating? Try out our friendly, homemade decision diagram!
That's it, summer vacation is coming. Family as well as colleagues, everyone is busy organizing their next stay as well as possible. Watching the internet, booking accommodation, researching activities, ordering new swimsuits: in short, nothing is left to chance.
But now, everyone is not as organized as Monique from the accounting department: the mother of 4 children, whose suitcases have already been ready for 1 month. Because yes, there are people on earth who, like me and maybe like you, have no idea what to do or where to go to spend their holidays. If this is your case, the following will certainly help you!
How to choose your next vacation?
Heads, I go to the sea. Heads, I go to the mountains.
Tossing a coin is simple, fast and effective. But sometimes you need a little more detail to make a decision.
To help you in your selection, we have prepared a "Sea or Mountain" diagram. All you have to do is follow the arrows by simply responding with Yes or non to the questions asked !
Frankly, we may have been a bit chauvinistic at times. But keep in mind that there are no good or bad destinations, just a place that meets your needs for a pleasant vacation.
The little tip:
You will find a little further down, links that will take you directly to the activities mentioned, but also to other sources of inspiration.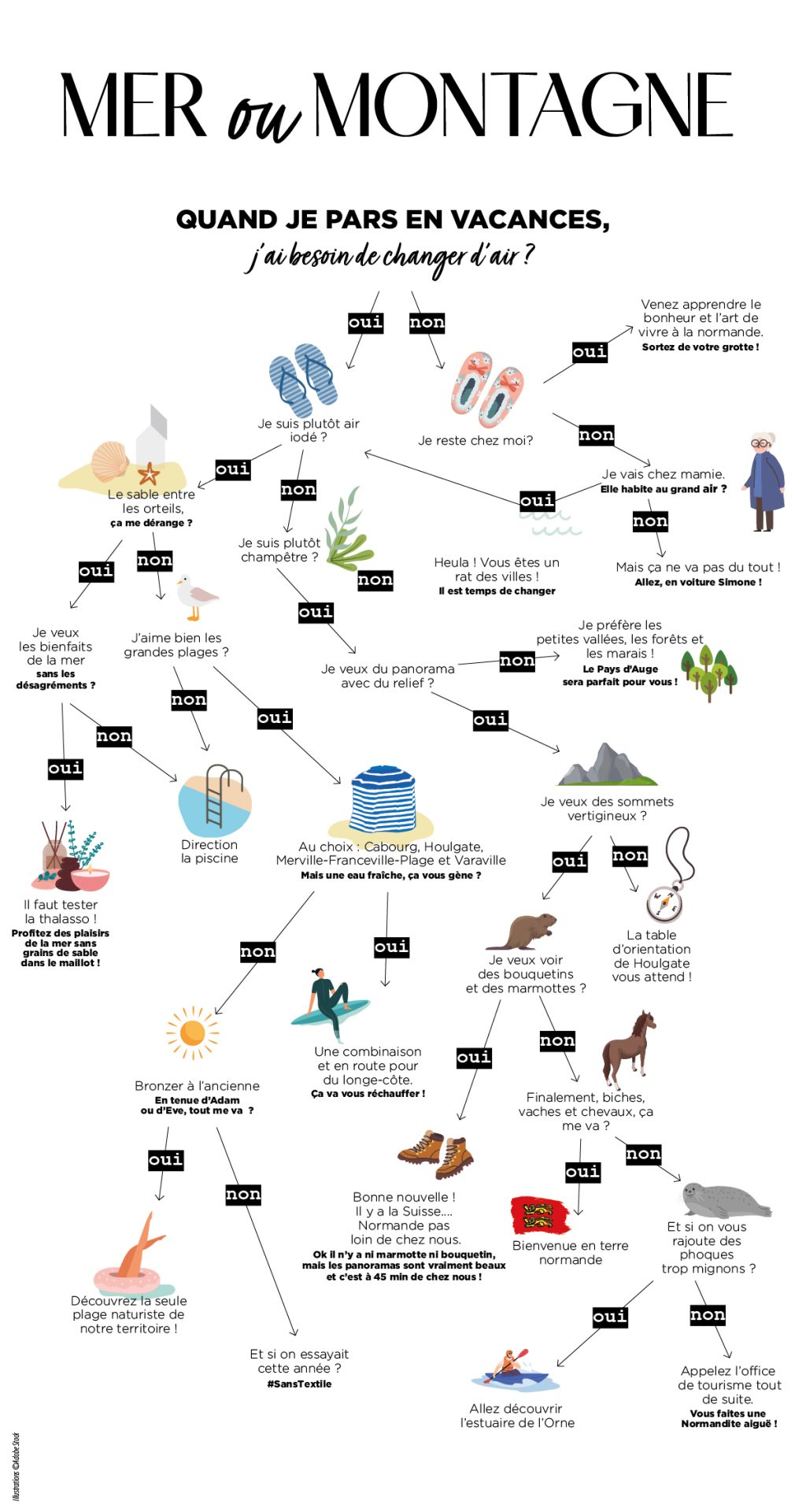 Useful links for summer holidays
Do you like the beach, the sand and scenic walks?
The beaches of our 3 tourist resorts await you. There Marcel Proust Promenade and Roland Garros Promenade will let you enjoy a beautiful panorama during your walks in the open air.
If the idea of ​​you bask in a beach basket seduces you, here is where to book to offer you a more intimate moment of relaxation for a day or the entire duration of your summer vacation.
Nautical activities and leisure, the hardest part is choosing !
Here is the list of activities proposed to refresh your ideas:
the thalasso and the spa, for the benefits of the sea;
the long coast for a sporty but refreshing ride;
the practice of kayaking or paddle to discover the estuary of the Orne.
If you're not afraid to take a dip, check out all the nautical activities of our territory as well as our other articles of inspirations like discover the Côte Fleurie by the sea, organize an adrenaline weekend or why not pass your boating license during your holidays.
nature is calling you
To put you in the green, we offer you some places to visit et self-guided tours :
You are more of an electric bike/scooter, you like to be accompanied or guided, consult our dedicated page directly Discover Normandy by scooter or electric bike. Also find the testimony of Amélie and Benjamin, the photographers of Hellolaroux during their nature stay. And of course other walking routes which are available online.
Would you like a personalized and free travel diary?
To prepare for your visit and have everything to hand, contact our tourist offices and ask for your own travel card.
Entirely personalized by our holiday advisers, you will find accommodation, activities, restaurants and sites and places to visit according to your affinities and your desires! And it works equally well for solo travelers, couples and families!