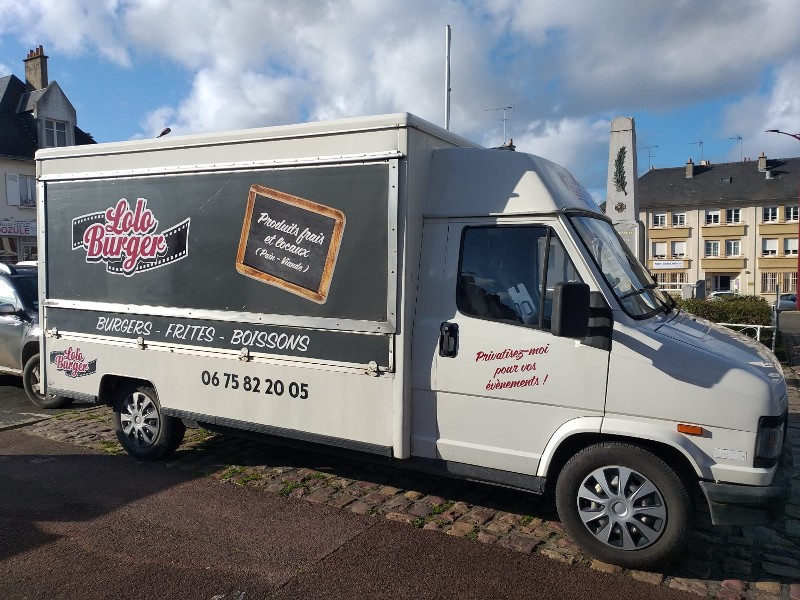 Meet on Thursday evening on the Place du Monument in Dozulé to order generous and authentic burgers!

At Lolo Burger, quality is sacred! The burgers are homemade, with bread from the baker, meat from the butcher, all accompanied by Belgian fries.

On the menu: burgers, fries and salads.

Find Lolo Burger:
Thursday evening: downtown Dozulé
Friday lunchtime: V&B, avenue des Résistants in Dives-sur-Mer
Friday evening: Camping de la Pommeraie in Cabourg
Saturday lunchtime and evening, and Sunday lunchtime: Camping Ariane in Merville-Franceville-Plage

Possibility of privatizing the food-truck for your private or professional events!
Restaurant
The chief Laurent Leger welcomes you
Culinary specialties
North American cuisine
Traditional cuisine
Capacity
100 place setting (s) maximum
Opening
From January 01 to December 31
Thursday
Open from 17 a.m. to 21 p.m.
Downtown
Pricing
Type
Price
A la carte

Burger formula (burger + fries or salad)

10 €
A la carte

The burger

8 €
A la carte: 10.00 €
A la carte: 8.00 €
Payment method
Credit card
Lunch vouchers
Cash
Contactless payment
Restaurant tickets, dining chits, meal tickets