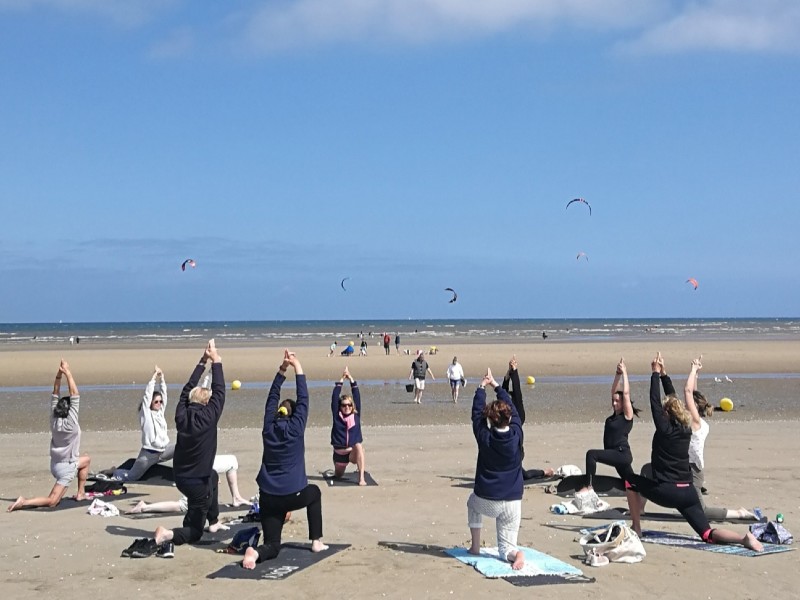 Trained in Hatha Yoga by the Shantyoga school, Aline Charrière offers a yoga that allows everyone to align the body with the mind and the heart.
A session of postures where benevolence, listening to oneself and relaxation are its priority.
Classes are held in small numbers in order to best support each student, so that each practitioner feels listened to, understood and supported in their approach.
Yoga allows to find flexibility of body and mind, allows to circulate energies, to find vitality, improves sleep...
Come and practice to realize all its benefits. A moment of relaxation for you, an outdoor yoga practice, on the beach, lulled by the sound of the waves. Subject to weather conditions, bring your mat and clothes to cover you at the end of the session. A herbal tea is offered to you at the end of the session to enjoy the landscape.

Aline has been practicing yoga for 10 years. Back from 2 years of sailing with the family, she had the opportunity to learn from teachers from different cultures and to enrich her practice but also her teaching. Yoga is a marvelous journey, a luminous path.

And for those who wish, Aline now offers reflexology sessions at home!
Opening
From April 04 to July 15
Tuesday
Open from 10:30 a.m. to 12 p.m.
From August 14 to September 30
Tuesday
Open from 10:30 a.m. to 12 p.m.
Pricing
Type
Price
Basic rate

snack included

€15
Base rate: € 15.00
Payment method
French bank and postal checks
Cash