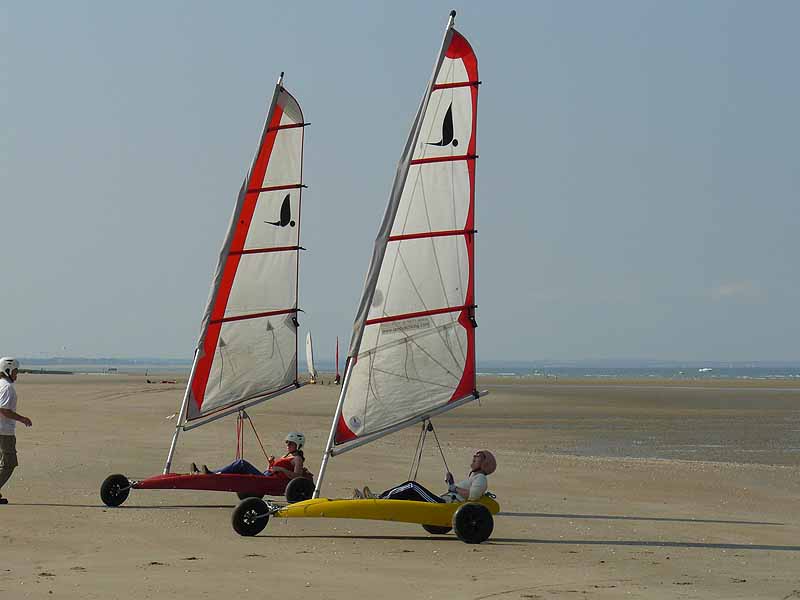 Treat yourself to a speeding ticket on the immensity of the beach in a sand yacht! The Cap Cabourg beach, uncovered at low tide, makes it easy to practice the activity in all seasons. Installed in the hull half-seated, half-lying down, feet wedged on the rudder, edge or shock the sheet to find the ideal trajectory!

Possibility of discovery session (2h) or internship (4h over 2 days) only during school holidays.

Arrival 15 minutes before the session, allow 10 minutes on foot to reach the rolling area, wearing a mask and personal gloves compulsory, group of 9 people maximum, health rules detailed on the website.

Covid-19 Information:
Only sessions from 10 years old are insured.
Rinsing and disinfection of floats after each session.
Disinfection sheets after each use.
Charlottes provided and helmets disinfected after each use.
Wearing a protective mask and personal gloves is mandatory
Washing and disinfection of participants' hands before and after the session.
Ranking & labels
Land Sailing Center
Famille Plus
Activities
Sports (canyoning, rafting, via-ferrata,...)
Opening
From January 07 to December 31
Monday
Open
Tuesday
Open
Wednesday
Open
Thursday
Open
Friday
Open
Saturday
Open
Sunday
Open
Sessions during low tide hours
Prices
Type
Price
Basic rate

from 10 years

60 €
Reduced price

school and institution fees

40 €
Base rate: € 60.00
Reduced price: 40.00 €
Payment method
Credit card
Payment cards
French bank and postal checks
Cash
Transfers
Visa