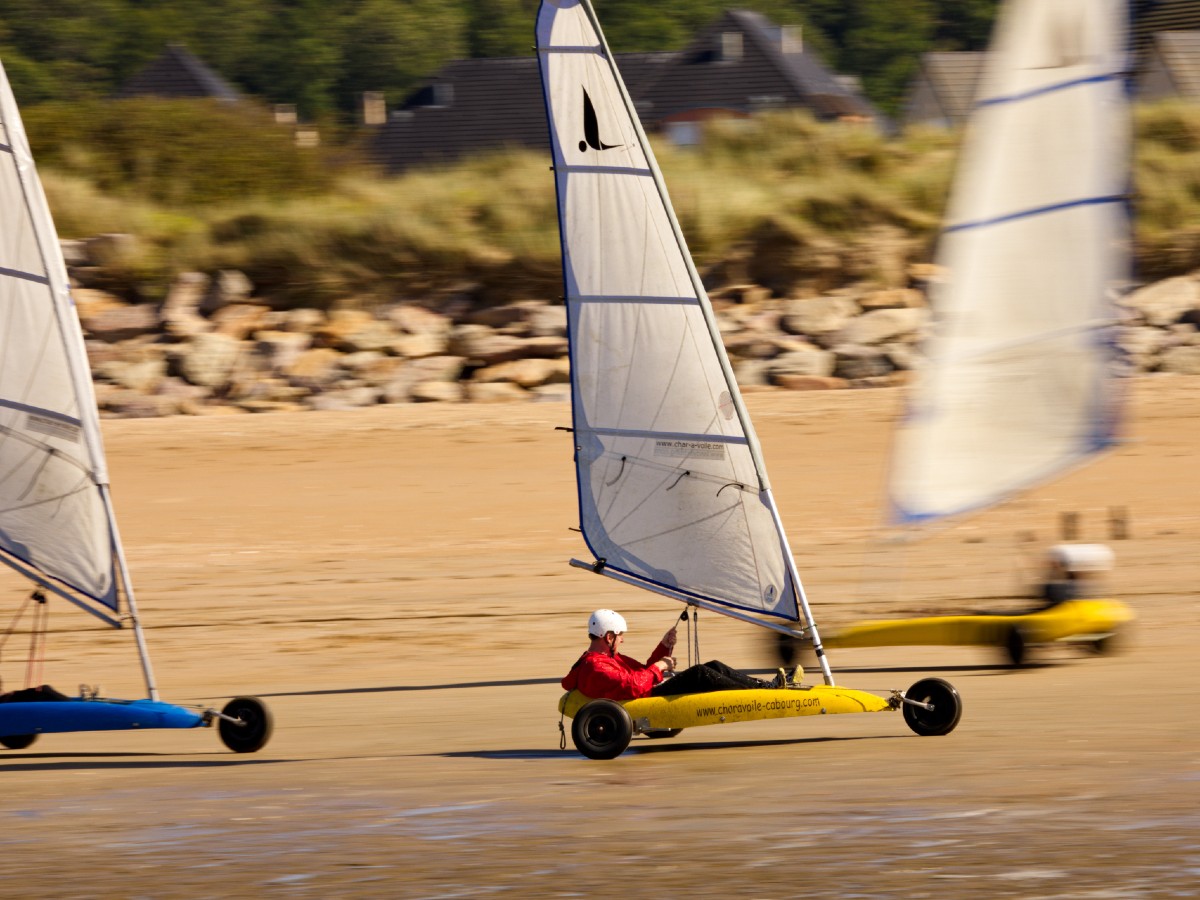 Our contact details
Sand yachting school
Avenue Durand Morimbau
Rendez-vous sur la plage de Cap Cabourg
14390 Cabourg
Treat yourself to a speeding ticket on the immensity of the beach in a sand yacht! The Cap Cabourg beach, uncovered at low tide, makes it easy to practice the activity in all seasons. Installed in the hull half-seated, half-lying down, feet wedged on the rudder, edge or shock the sheet to find the ideal trajectory!

Possibility of discovery session (2h) from 10 years old to adults all year round or session (2h) children 8/12 years old only during school holidays.

Arrive 15 minutes before the session, allow 10 minutes on foot to reach the rolling area.
Reservation required on the website.
Ranking & labels
Land Sailing Center
Famille Plus label
Opening
From January 10 to December 24
Monday
Open
Tuesday
Open
Wednesday
Open
Thursday
Open
Friday
Open
SATURDAY
Open
Sunday
Open
Sessions during low tide hours
From January 02 to February 11
Wednesday
Open
Thursday
Open
Friday
Open
SATURDAY
Open
Sunday
Open
Sessions during low tide hours
From 12 February to 03 March
Monday
Open
Tuesday
Open
Wednesday
Open
Thursday
Open
Friday
Open
SATURDAY
Open
Sessions during low tide hours
From 11 March to 07 April
Wednesday
Open
Thursday
Open
Friday
Open
SATURDAY
Open
Sunday
Open
Sessions during low tide hours
From April 08 to May 05
Monday
Open
Tuesday
Open
Wednesday
Open
Thursday
Open
Friday
Open
SATURDAY
Open
Sessions during low tide hours
From May 06 to June 30
Wednesday
Open
Thursday
Open
Friday
Open
SATURDAY
Open
Sunday
Open
Sessions during low tide hours
From 08 July to 01 September
Monday
Open
Tuesday
Open
Wednesday
Open
Thursday
Open
Friday
Open
SATURDAY
Open
Sessions during low tide hours
From September 02 to October 20
Wednesday
Open
Thursday
Open
Friday
Open
SATURDAY
Open
Sunday
Open
Sessions during low tide hours
From 21 October to 03 November
Monday
Open
Tuesday
Open
Wednesday
Open
Thursday
Open
Friday
Open
SATURDAY
Open
Sessions during low tide hours
From November 04 to December 22
Wednesday
Open
Thursday
Open
Friday
Open
SATURDAY
Open
Sunday
Open
Sessions during low tide hours
Pricing
Type
Price
Basic rate

from 10 years

64 €
Reduced price

school session (1 single-seater tank shared by 2 children)

23 €
Child rate

course 8/12 years old (1 single-seater tank shared by 2 children)

30 €
Base rate: € 64.00
Reduced price: 23.00 €
Child rate: 30.00 €
Payment method
Credit card
Payment cards
French bank and postal checks
Cash
Transfers
Visa