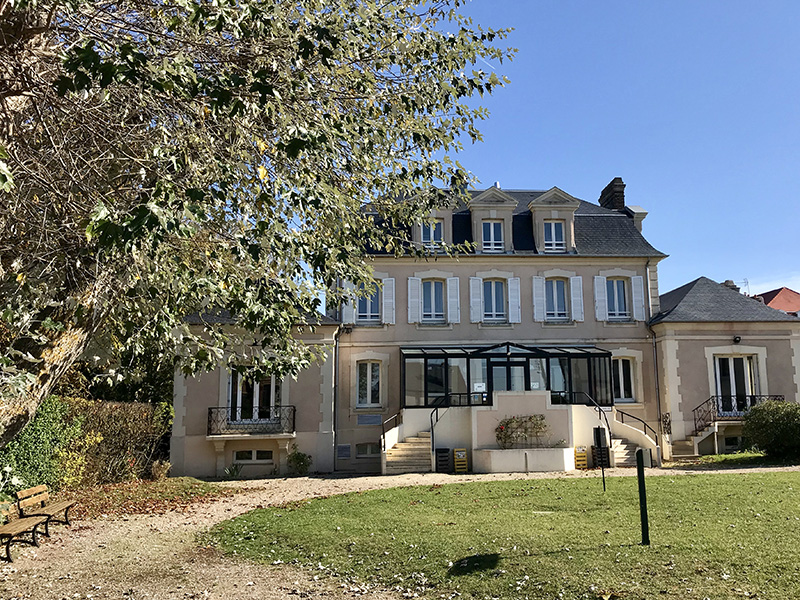 Located 50 meters from the beach, in a wooded park, the CPCV Normandie welcomes you all year round in a relaxing and rejuvenating setting.

Open to all (school groups,
associations, professionals / families / individuals), the CPCV allows:
- families and individuals to spend pleasant holidays in perfect relaxation,
- groups to organize their educational stays (sea and/or discovery classes, leisure centre), their professional meetings or even their family events (meeting room of 50 m2).

Depending on the season, you can choose between a half-board or full-board formula, with the possibility of packed lunches for your day trips.

The Jean Joussellin room welcomes you for the organization of your family celebrations (weddings, baptisms, birthdays, etc.), dancing teas, lotteries, general assemblies, professional seminars, etc. This large 100 m2 room, totally independent of the holiday centre, can accommodate up to 94 people.

Whatever your request, the center team is at your disposal to organize your stay or event!
Ranking & labels
Famille Plus label
The Green Key
Capacity
Maximum possible capacity: 96
19 bedrooms
19 apartment(s)
Opening
Open all year round for the holiday center as well as the "Jean Joussellin" reception room.
Pricing
Type
Price
Half board (child)

in low season; free for children aged 0 to 2

31 € - 34,50 €
Half board (adult)

in low season

42,50 € - 63,50 €
Pension (child)

in low season; free for children aged 0 to 2

39,50 € - 47,50 €
Board (adult)

in low season

55,50 € - 76,50 €
Pension (child)

in high season; free for children aged 0 to 2

48 € - 55,50 €
Board (adult)

in high season

63 € - 81,50 €
Pension (child)

in very high season; free for children aged 0 to 2

50,50 € - 60 €
Board (adult)

in very high season

67,50 € - 86,50 €
Half board (child): from €31.00 to €34.50
Half board (adult): from €42.50 to €63.50
Board (child): from €39.50 to €47.50
Board (adult): from €55.50 to €76.50
Board (child): from €48.00 to €55.50
Board (adult): from €63.00 to €81.50
Board (child): from €50.50 to €60.00
Board (adult): from €67.50 to €86.50
Payment method
Bons CAF
Credit card
French bank and postal checks
French "Chèques vacances"
Cash
Eurocard-Mastercard
Contactless payment
Rollon
Transfers
Visa
Services