Brucourt is a village of 125 inhabitants, located in the Pays d'Auge. There is the calm of the Normandy countryside and unspoiled nature. Brucourt is only 5 km from Dives-sur-Mer and Dozulé, where you will find all the necessary shops, and 10 minutes from the beaches of Cabourg and Houlgate.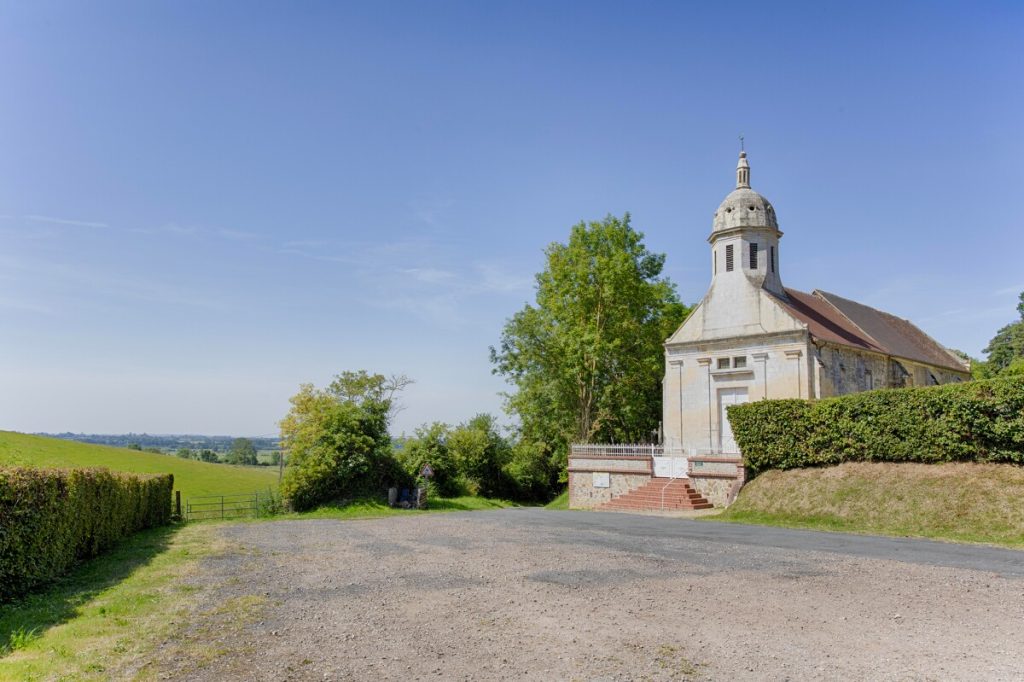 Brucourt, between bocage and marshes
Located at the foot of the hills of Bassebourg and Saint-Laurent, Brucourt is essentially composed of Swamp for farming and groves on the side of the first Norman hills. These are 2 emblematic landscapes of the community of communes Normandy Cabourg Pays d'Auge.
Brucourt, witness to the Battle of Normandy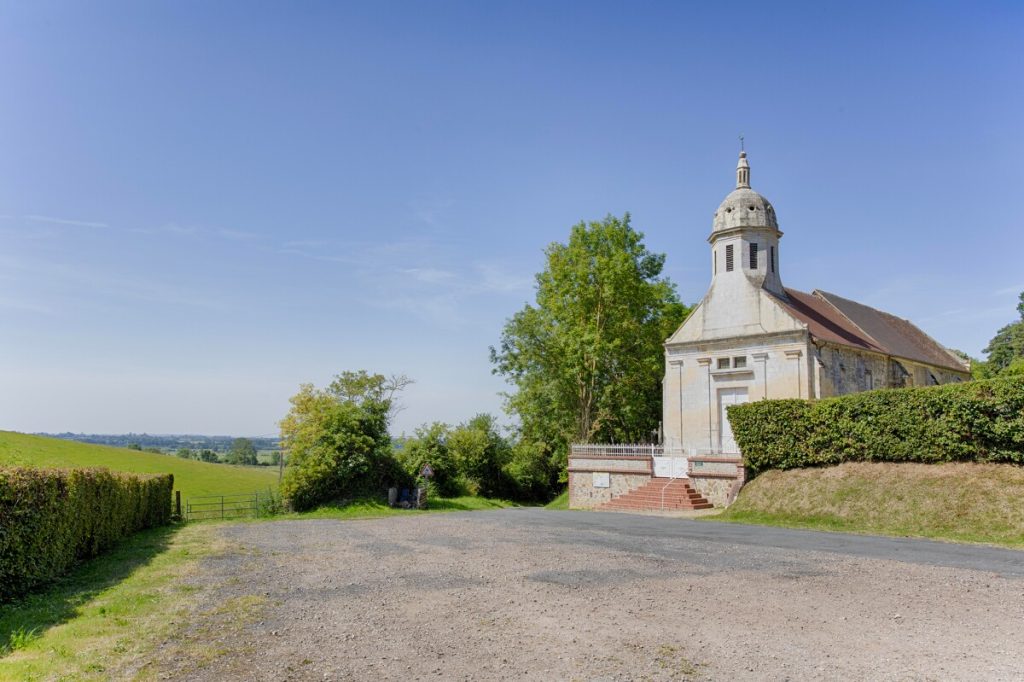 While strolling in Brucourt, you will discover a local heritage, witness of the great history.
Saint-Vigor church
Its construction began in the XIIe century, but it was enlarged in the XNUMXthe century. It is oriented in the opposite direction to the other churches: the choir is to the West! The entrance is surmounted by an octagonal bell tower topped with a dome and a lantern. Two bells, one of which was cast in 1788, mark the hours. the religious furniture, like the altar and the confessional, was collected from the bombed-out northern churches. A polychrome statue of a virgin and martyr dates from the construction of the church.
The graves of English soldiers
Nestled in the shade of the Saint-Vigor church, the cemetery hosts the graves of 6 English airmen who fell during the night of 5 to 6th June 1944. Just like the villages of Grangues and Periers-en-Auge, Brucourt was also the witness of the battle of normandy. During Operation Tonga, units of the 6e airborne division ou 6th Airborne were dropped by gliders to secure part of the landing area. The Horsa CN110 glider crashed that night at Brucourt and the Dakota CN254 dropped its paratroopers there. Several soldiers died and 6 of them were buried in the village cemetery. The memory of these soldiers is honored each year during the landing commemoration ceremonies.
Brucourt, a village of stone and water
Brucourt monastery
At the top of the Saint-Laurent hill, you will see the old Annonciade Monastery which overlooks the church. It was built at the beginning of the XXe century by a couple of wealthy collectors, then bequeathed in 1951 by the owners to the Benedictines. The Annonciade Nuns then settled there from 1975 to 2015. It was transformed into guest house, and now has five suites in a preserved setting of 15 hectares. On good terms…
Brucourt water
Water is omnipresent in the municipality of Brucourt mainly thanks to the marshes, to its numerous springs and to the crossing of the territory by the Dives and l'Anchor. The names of the paths attest to this: Chemin de la Fontaine, Chemin du Marais, Chemin des Sources, etc.