Le village of Auberville is nestled on the east heights of the seaside resort Houlgate. Built at an altitude of 130 m on the Côte Fleurie, the town has remarkable viewpoints which dominate the "Black Cows cliffs" and the Channel. Its privileged setting and its geographical location, just 3 km from the beaches and shops, make it an ideal vacation spot.
North of Auberville lies the sea, and south stretches the countryside. This diversity of landscapes is one of the main advantages of the town. The best way to enjoy it is to discover it on foot. Two loops are recommended.
On the heights of Auberville
The first route is an easy 1,7 km walk that will take you about 45 min. The start is on the way to the church and takes a landscaped path that will take you to the heights of the Black Cows cliffs. The gently sloping bocage plateau offers beautiful sea ​​views.
Do not forget to make a small detour by the church Notre Dame d'Auberville, built in Caen stone in the XIIIthe century and modified in the XVIIthe. Simple, it does not lack charm. It has a wall-tower on the front pierced by two bays. You can see the two bronze bells cast in 1759.
The solid wood entrance gate is supported by two buttresses. The church is open on weekends in season, then you can observe the wooden ceiling of the nave and the exposed beams. A XVIIth century altarpiecee representing The Meal at the House of Simon the Pharisee, a XVIIth century paintinge, The Beheading of Saint Barbara, and a XVIIth century statue of Saint Marke complete the traditional liturgical furniture.
On the beach and on the cliffs
The second hike will appeal to the more athletic ones. It takes three hours to complete a loop from Auberville. Do not forget to check the tide schedule so you don't get caught in a rising tide. The route begins by going down to the beach towards Villers-sur-Mer, taking part of the GR 223, then returns via the beach of the "Black Cows cliffs". Halfway through, black rocks rise from the sea. They are the ones who gave the name to the site, because the sailors confused them with cows from their boats.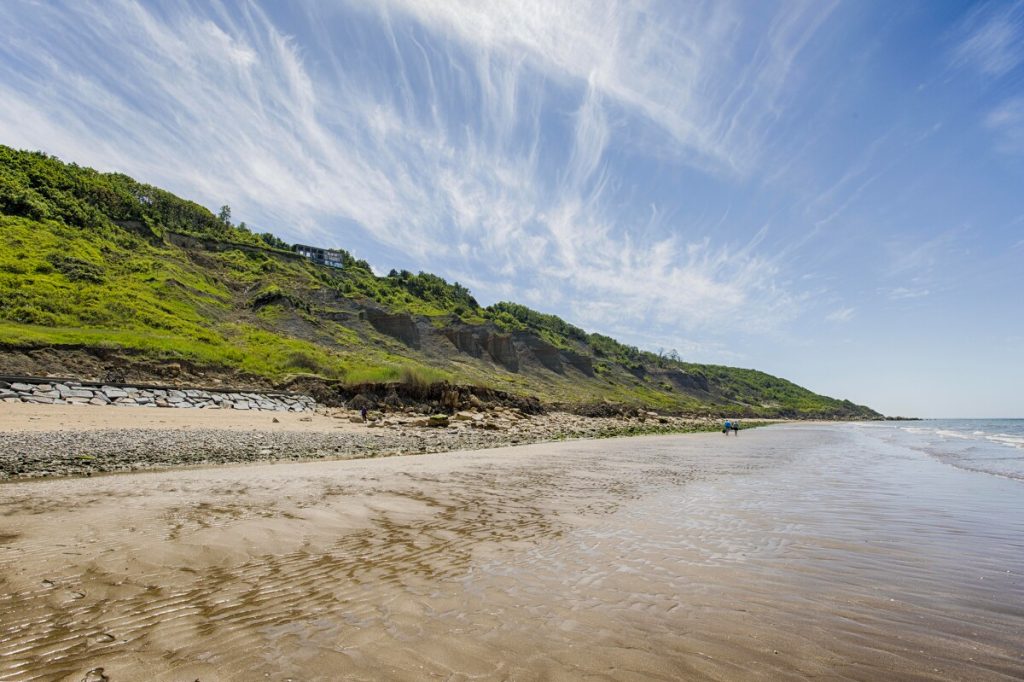 The "Black Cows cliffs" dates back to the Jurassic period. They are renowned for their geological and paleonthological wealth et paleontological. We even discovered the remains of dinosaurs! Who would have believed it !

From Houlgate, you will then have to go back up towards Auberville by taking the 100 steps.
At the orientation table, the breathtaking view is superb on the mouth of the Dives and Cabourg, Varaville et Merville-Franceville-Plage.