A few minutes from the seaside resorts of Cabourg and Houlgate, Douville-en-Auge is located in the heart of Pays d'Auge. If you want to get away from the excitement of the Côte Fleurie and stroll in the hinterland, Douville is a good choice for a getaway in the middle of nature and spending some time on the farm.
The Douville-en-Auge washhouse hike
If you feel like walking and soaking up the countryside, follow the laundry hike which guides you for 7 km on the paths of Douville-en-Auge. To do this, take a section of the GR of the "Tour of the Pays d'Auge" which travels 230 km in the lands of Calvados, from Deauville to Orbec via Dozulé et Beuvron-en-Auge.
During the walk you will pass Saint Blaise Church, whose Romanesque nave dates from the XNUMXthe century and the XNUMXth century choire. It is listed as a Historic Monument just like the cemetery cross of the XIVe century. Important furniture, later, adorns the interior. The set is very representative of the rural buildings of the Auge region. A little further down the road, there is an XNUMXth century castlee century, private property, and not accessible to the public.
The visit of the farms of Douville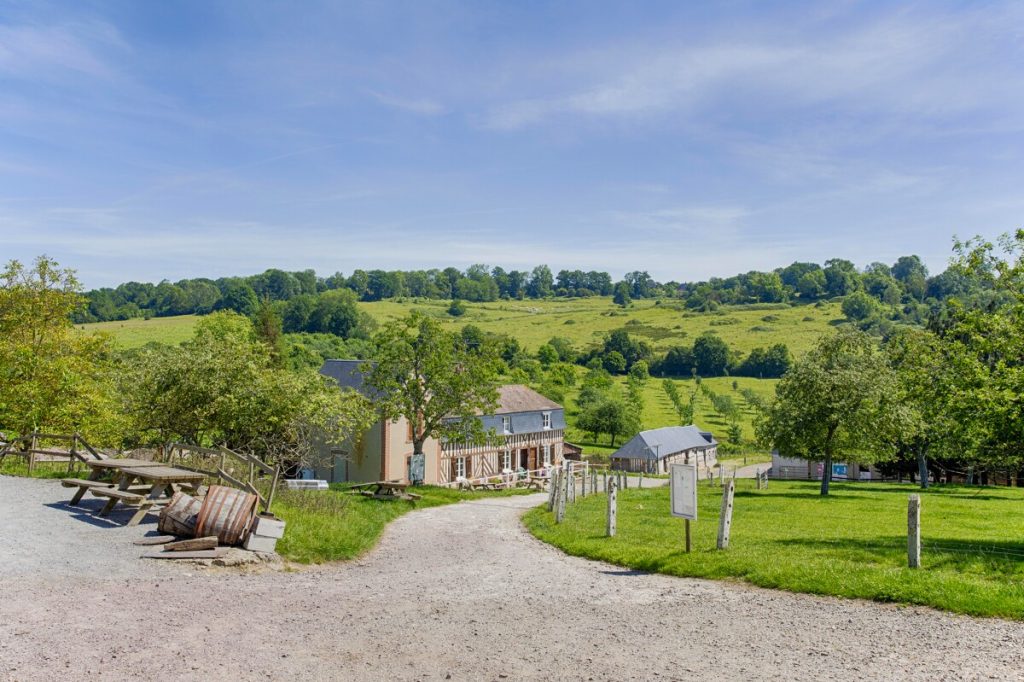 This is another activity in Douville-en-Auge, to do with family or friends. To the Lieu Roussel Farm, young and old are expected to keep company with calves, cows, pigs and other feathered and furry animals. They are all residents of the educational farm by Eric and Régine Maertens.
You will stroll freely under the amused eye of Eric, riding his tractor, always ready to answer your questions. Régine will give you a questionnaire at the entrance to test your animal knowledge and acquire new ones. You will discover the profession of farmer and the origin of the products you eat.
In the continuity of the visits, the Oraille farm also opens its doors. In this family dairy farm, cow's milk is transformed into tasty products. Yoghurts, cream, cottage cheese, butter: all these products are available for sale on site.