Did you know that there are several hundred varieties of apples in Normandy? No wonder there are so many cider producers there! To meet them, it is best to venture along the Cider Route, which criss-crosses the Pays d'Auge for nearly 40 kilometres.
A charming circuit in Calvados
The Cider Route meanders between typical Augeron villages, prestigious stud farms, mansions and fields of apple trees. Along a signposted circuit of 40 km, it connects Beuvron-en-Auge, Cambremer, Bonnebosq and Beaufour-Druval. Notice to cyclists, this route can be traveled by car as well as by bike!
Guided tours and tastings on the Cider Route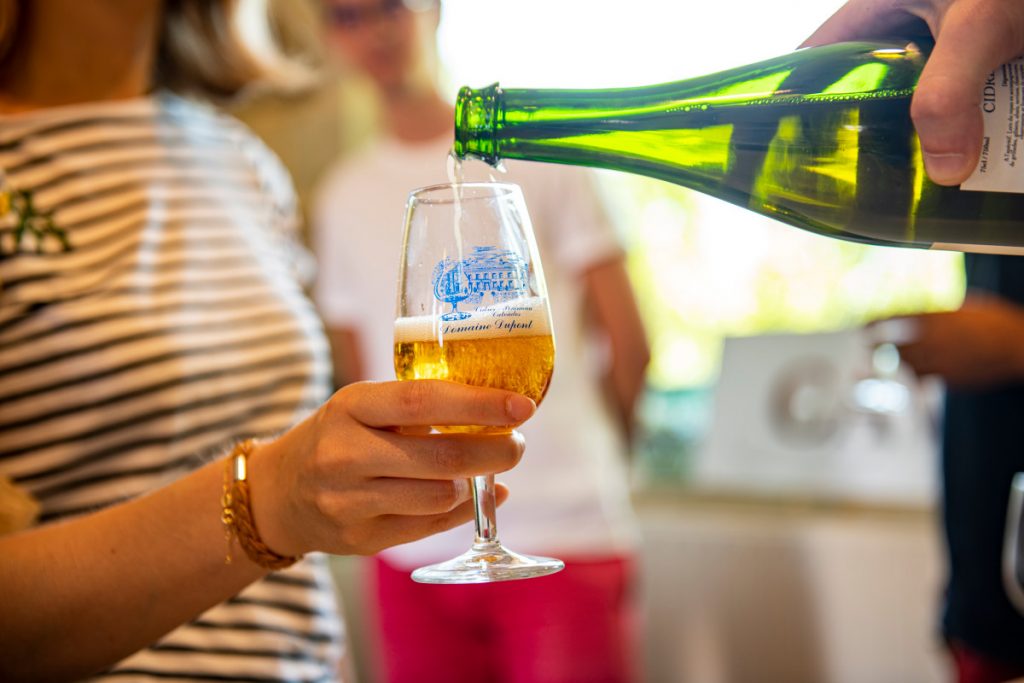 On the Cider Route, you will come across around twenty producers, divided between the different villages. Among these producers, there are many who take pleasure in sharing the love of their profession and the quality of their products with their visitors. Cider, calvados, pommeau, perry, the list is long and there is no shortage of opportunities to taste these Norman nectars.
Did you know?
The Cider Route is at the heart of the geographical basin which is home to the Appellation d'Origine Protégée Cidre Pays d'Auge (AOP Pays d'Auge).
The Appellation d'Origine Protégée Cidre Pays d'Auge (AOP Pays d'Auge) guarantees production in accordance with ancestral know-how, with very precise specifications.
Cider, calvados, pommeau, perry… what's the difference?
You will surely have noticed it while browsing the Cider Route, the producers do not only sell this famous sparkling drink!
The Cider. It is made from the famous cider apples, and each producer has their own recipe! Cider generally oscillates between 3,5 and 5 degrees of alcohol and is obtained from the juice of apples that are fermented.
Calvados is an eau-de-vie considered by connoisseurs to be the finest expression of the apple.
The pommeau is obtained from apple juice and calvados, and is drunk very fresh. But beware, it is still at 17 degrees of alcohol!
Perry, as its name suggests, is made from fermented pear juice, much like cider. You can recognize it by its beautiful pale yellow color and its delicate effervescence.
So keep your eyes wide open, follow the signs, prepare your taste buds, and above all have a good trip!