Monday, June 13, the STARS & JOBS prize was awarded to one of our partners, on Place Michel Vermughen in Beuvron-en-Auge! A look back at this moment that put our typical Norman village center stage!
A soap shop in Beuvron-en-Auge
Located in the heart of Beuvron-en-Auge, Les savons d'Orély , it is a shop that offers solid soaps in a "zero waste" version, whole and by the cup, solid cosmetic products certified organic, respectful for the environment and very gentle on the skin, but also bathroom accessories made by creative craftsmen from the Normandy region.
Installed in early 2022, Aurélie Vernaudon, master soap maker and her team were quick to make people talk about them and our village. Indeed, on Monday June 13, 2022 at 15 p.m., this artisanal business leader received the " Stars & Professions which highlights the human and environmental values ​​and the know-how that his company defends.
What is the STAR et MÉTIERS award?
It is a prize that encourages the excellence, audacity and innovation of passionate artisanal entrepreneurs. It rewards the ability to:
adapt to a constantly changing environment;
project oneself ;
develop.
Awarded by Bruno CHOIX, President of the CMA Normandie – Calvados, Emmanuel LEBRETON, Regional Director BRED Normandy and Laurent HEBERT, Head of Partnerships BRED Regional Department Normandy West; it values ​​the work of this Norman company, in the "Responsible" category.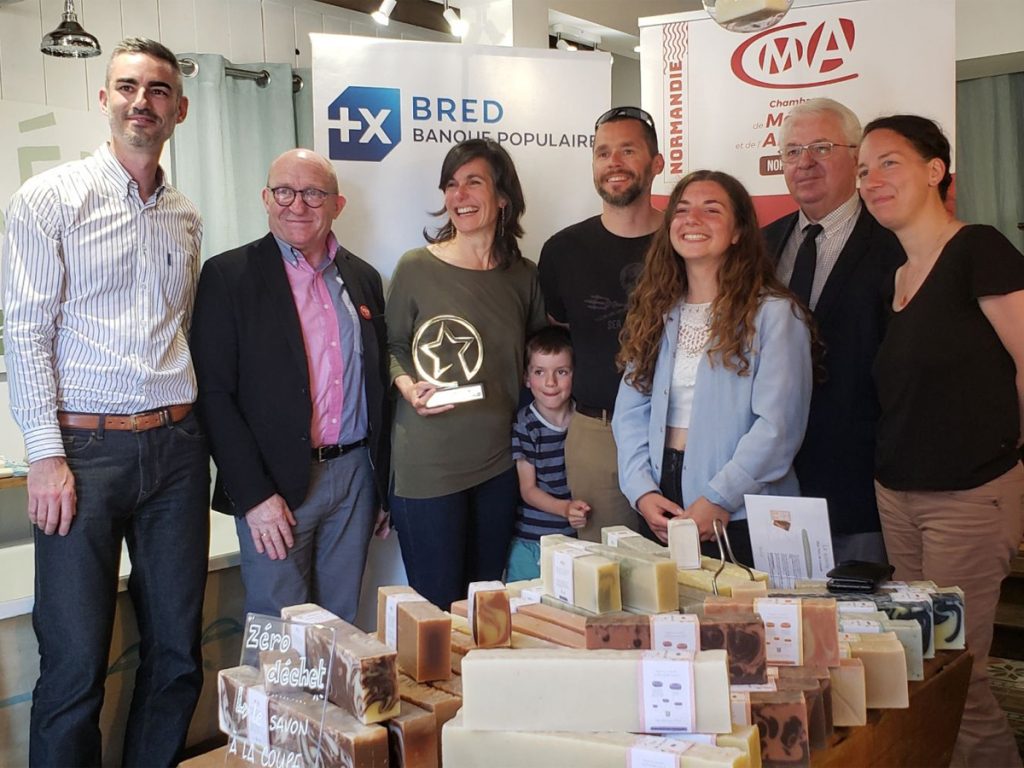 A great success that promotes the notoriety of our village but also that of our territory!
Where to find them?
Les savons d'Orély
9 Place Michel Vermughen
14430 BEUVRON-EN-AUGE

02 14 47 70 52
06 78 34 14 73
Calculate my route