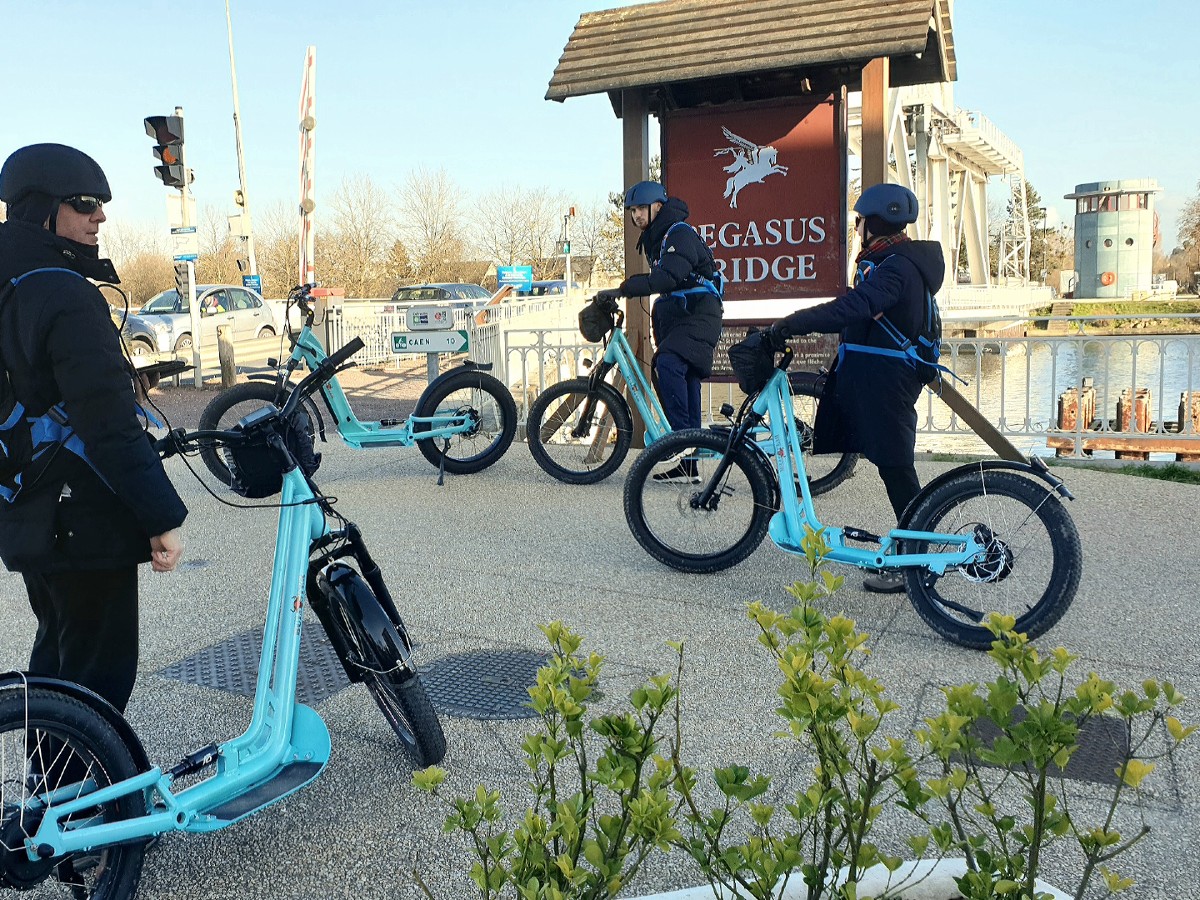 Discover our beautiful territory thanks to the walks accompanied by Ishmael aboard a bullster, an all-terrain electric scooter!

Between historical and natural heritage, discover the surroundings of the Orne estuary.
An ornithological site of great beauty, the bay of the Orne estuary is now protected by the Conservatoire du Littoral.
This sector also played a major role in the Battle of Normandy, at dawn on June 6, 1944, as evidenced by the museums and places of memory that mark out this territory.
Opening
From February to December

February holidays, departure at 14 p.m.
Monday 13 February
Thursday February 16
Sunday February 19
Wednesday February 22
Saturday February 25
Tuesday February 28
Thursday 2 March

April:
Monday 3 April at 14:30 p.m.
Sunday 9 April at 14h30
Monday 10 April at 10:30 p.m.
Saturday 15 April at 14 p.m.
Sunday April 23 at 15 p.m.
Monday 24 April at 10:30 p.m.

May :
Mercredi May 3 to 14:30 p.m.
Tuesday May 9 at 14:30 p.m.
Mercredi May 10 to 10:30 p.m.
Monday May 15 at 14:30
Tuesday, May 23 at 15 p.m.
Mercredi May 24 to 10:30 p.m.

June:
Thursday June 15 at 15 a.m.

July :
Friday July 7 at 14:30 p.m.
Monday July 10 at 11 p.m.
Saturday July 15 at 14:30 p.m.
Sunday July 23 at 14:30 p.m.
Friday July 28 at 15 p.m.

August:
Saturday 5 August at 15h
Thursday August 10 at 11 p.m.
Friday August 18 at 11 p.m.
Wednesday August 23 at 14:30 p.m.
Monday August 28 at midnight
Pricing
| Type | Price |
| --- | --- |
| Basic rate | 65 € |
Base rate: € 65.00