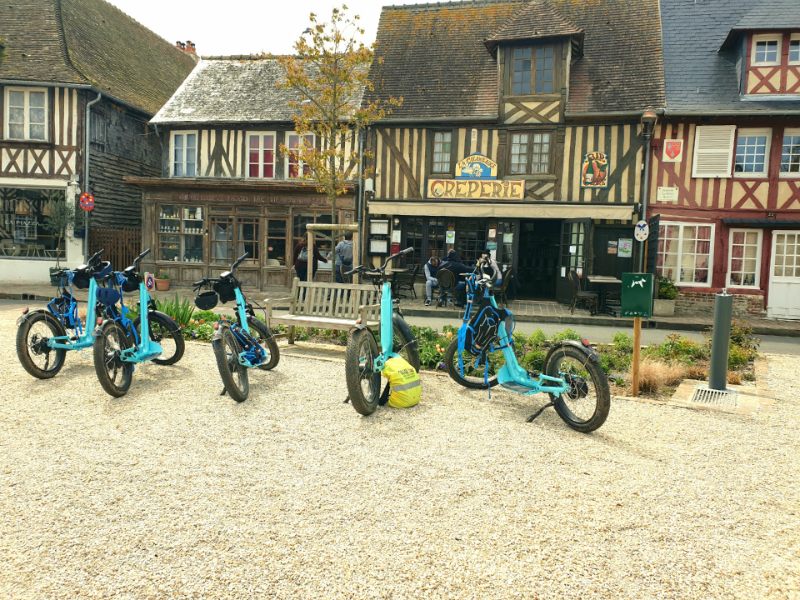 Discover the Pays d'Auge, the hinterland of our territory, thanks to the walks accompanied by Ismaël aboard a bullster, an all-terrain electric scooter!

Standing on your mount, fill up with sensations with this circuit taking forest paths and sunken country lanes while discovering the land: half-timbered houses, stud farms, small churches including the Clermont chapel culminating at an altitude of 100 m with a superb panorama.
After a sporty descent in the undergrowth, stop over a boletus of cider in the charming little village of Beuvron-en-Auge!
Opening
departure at 15 a.m.

Jeudi 6 avril
Monday 10 April
Jeudi 13 avril
Tuesday April 25
Friday, April 28
Sunday, April 30
Wednesday 10 may
Saturday May 13
Thursday May 25
Sunday, May 28
Tuesday May 30

June:
Tuesday June 13

July :
Thursday July 6 at 15 p.m.
Monday July 10 at 15 p.m.
Friday July 21 at 15 p.m.
Mercredi 26 July at 15h
Sunday July 30 at 15 p.m.

August:
Sunday August 6 at 15 a.m.
Thursday August 10 at 15 p.m.
Tuesday August 15 at 14 p.m.
Monday August 21 at midnight
Saturday 26 August at 15h
Pricing
| Type | Price |
| --- | --- |
| Basic rate | 75 € |
Base rate: € 75.00